Tomorrow is the day that members of the Schumacher Lions Club look forward to all year.
It's the day they hand-deliver grocery vouchers to needy families.  The vouchers are a result of last week's Moose FM Feeding Families Radiothon for the Stan Fowler Santa Claus Fund.
Chairman John McCauley says the Lions will deliver a little more than 300 vouchers.  That's fewer than last year, but McCauley knows the need will always be there.
"There's always going to be people for one reason or another they're down on their luck," he says, "and that's what we're her for, to help them."
The distribution operation begins at 10:00am from the Schumacher Lions Club at the Mac.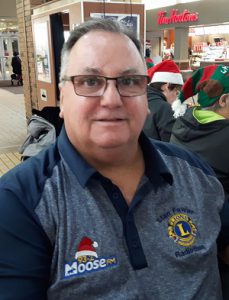 "We pretty much have all of our Lions members on board doing this, so they scatter out throughout all parts of the city: Timmins, Schumacher, South End," says McCauley, "and what we do is we deliver directly to the house."
If you filled out an application for a voucher, you're asked to be home after 10:00am tomorrow.  If you're not home when the Lions come to your door, a card will be left.  It has instructions on how and where to pick up your voucher.