Submitted by Brenda Beaven, coordinator, Cochrane District Crime Stoppers
The Timmins Police Service is looking for the public's assistance in identifying those responsible for significant damage to construction equipment in South Porcupine.
Sometime between September 2 at 3pm to September 6 at 8 am, individuals entered the secured compound belonging to the City of Timmins and caused over $50, 000 in damage to equipment and property.
The suspects cut large holes in the "Tempo-shelter" and proceeded to damage the solar panels on four traffic signal trailers at a cost of $5,000 each. They also destroyed several parts of a John Deere loader resulting in $40,000 damage to it.
Video footage shows several very young individuals possibly 10 to 13 years old climbing around the equipment in the compound. Due to their age we can not show those photos however, included in this request are photos of their bicycles.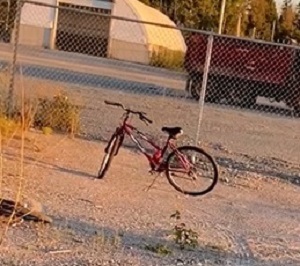 If these bicycles belong to your youngsters or you know who they belong to please call Crime Stoppers at 1-800-222-TIPS(8477). Or use the internet at www.P3tips.com or download the P3 app. The police need to speak to them and their parents.
If your information leads to an arrest you could be eligible to earn up to $2,000 in cash.  You will remain anonymous and will not have to testify in court.
See something, hear something, do something.  Call Crime Stoppers.