Paul Everitt might not hold the record for the most time spent listening to Moose 93.1.  His record is more likely the listener who's furthest away from Timmins.
He listens online from Grimsby, a fishing town on the Northeast coast of England.
Back in 2011, while Everitt was cycling across Canada, he met our program director and afternoon host, Shane Button, in New Brunswick.  Shane was working in radio there. Everitt followed him online to Moose Timmins.  He listens to our station every day at work and in the evening,especially on Friday.
"Friday we have a fire night," Everitt explains. "We've got the fire crackling in the background, got the music on, you know, we've got Shane on because typically Shane would be doing the evening, our time."
The 38-year-old self-employed house renovator says he loves cycling across Canada, experiencing the sights, sounds and smells you can't get from inside a car. He also loves the size of our country.
"You could do England in a day from coast to coast, left to right. It took me six months to get across Canada."
Everitt says he has his co-workers listening – and enjoying – Timmins' Classic Hits.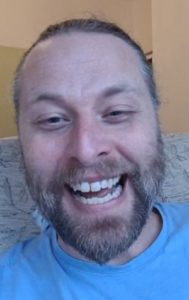 Here is Bob McIntyre's complete interview with Paul Everitt: