A fire in the north end of Timmins early today has made six people in three townhouse units temporarily homeless.
Deputy fire chief Ellard Beaven says it was reported as a deck fire shortly after 4:30 this morning… at Kaleidoscope Co-op Housing on MacLean Drive.
As firefighters were approaching, they saw it was much more… and started their attack with 250 gallons of water a minute on the flames.
"Realizing at that point the fire had extended itself and melted the gas meter, the natural gas meter, and the gas meter was continually feeding the fire," Beaven explains.
Flames extended into the roof, spreading to both adjacent units.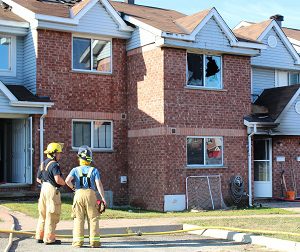 Beaven says the fire was first noticed by the son of owners of the centre townhouse.  He roused his parents.
"They did everything right," he remarks. "They exited the building immediately and got the neighbours out as well.  So fortunately, no one was injured but unfortunately, six people are homeless now."
A barbecue on the deck is ruled out as the cause.
The blaze has been ruled accidental, with no sign of criminal activity.