Your chance to see whether the hobby of model aircraft flying is for you comes up on Saturday, July 13th in Timmins.
The Golden Hawks club is holding a "fun fly", featuring craft flown by its own members and visitors from North Bay, Sudbury and Sault Ste. Marie.
Golden Hawks president Andrew Coholic says you'll see electric- and gas-powered aircraft –some up to 40-percent of full-scale size.
"Whatever people decide to bring," he points out.  "But there'll be a mix of very aerobatic stuff, possibly some jets, maybe even a helicopter.  It's generally a good mix of things that fly."
Coholic says he turns 49 this year, and has been hooked on model aircraft since he was seven.
He's not sure why, other than a passion for aviation.
"Myself, I'm involved in a lot of different aspects of the hobby.  I like flying aerobatics, I do a little bit of competition, I like flying jets, helicopters and then a lot of other things like gliders and such."
The aircraft are bought ready-to-fly or in kits that you build yourself.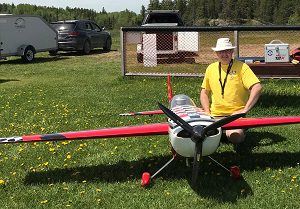 NO PRIVATE PILOT'S LICENCE?
You'd think that a self-confessed aviation fanatic who has spent most of his life flying model aircraft would have at least a private pilot's licence to fly the real thing.
Not Andrew Coholic.
"I don't," he admits with a sheepish chuckle. "I have very bad motion sickness.  I had a dream of one day getting a personal private licence.  It just happens in the hobby, there are a lot of full-scale pilots as well, but it wasn't in the cards for me.
"When I was about 20, I went up for my first flight a couple times in a small Cessna and a Piper Cherokee and I knew right away it wasn't going to be for me."
Coholic says that's probably what solidified his love of flying model aircraft.
There's no admission fee to Saturday's fun fly.  Food and raffles will be available. Activity should be flying high by about ten o'clock.
The Golden Hawks' field is on Gold Mine Road, about halfway between South Porcupine and Timmins.