To someone in a wheelchair a two-inch step to get through the door of a business might as well be a cliff.
A simple plywood ramp can open up that business and a lot of the rest of the world to anyone with accessibility issues.
Today in Timmins, a ramp built by construction students at O'Gorman High School was demonstrated, with Stopgap Foundation co-founder and executive director Luke Anderson on hand.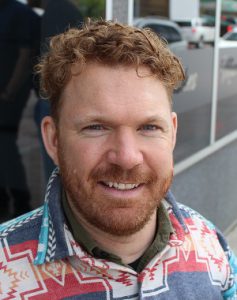 He says a simple ramp makes a lot of difference for more than wheelchair users.
"It's parents pushing strollers," he points out, "delivery people, the elderly, anybody that might have a hard time navigating a steppe entryway.  A ramp is a great example of a barrier-free amenity that we call can rely on."

Anderson came up with the idea after a mountain bike crash in B.C. in 2002 left him a quadriplegic, confined to a wheelchair.
"It's four pieces of wood.  We use the bright colours to draw attention to the issue and raise awareness and get people in the door.  So it's doing two things."