A tiny bear cub found on Dwyer Avenue in Schumacher Wednesday night will spend the next year or so in Huntsville, but he'll be back.
Natural resources ministry fish and wildlife specialist Barbara Burkhardt says Timmins Police called the MNRF about the cub in a carport.
"Apparently before we got there, it was crying for about an hour and no sign of the mom coming around at all," she tells My Timmins Now Dot Com.
The cub is male and Burkhardt figures he's about three months old.   On Thursday, she brought him to New Liskeard to hand him off to Mike McIntosh of the Bear With Us black bear rehabilitation centre in Huntsville.
"He'll look after the cub for about a year and a few months and he'll release that cub back into the Timmins area," Burkhardt reports.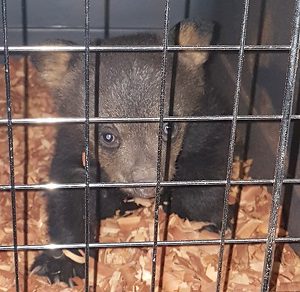 She acknowledges that another bear family has been spotted in Schumacher, but it's a mama with yearlings, so the newborn is not hers.
Burkhardt says the ministry brought the cub to the government complex in Porcupine for the night.
"So we had him in one of the garages, so he stayed nice and warm over the night."
My Timmins Now Dot Com: "And did you feed him?"
Burkhardt: "Yep, we gave him some baby formula."
Burkhardt commends Timmins Police for calling the ministry.  She says the cub was born around the end of January, and in the cold with no food, he would have perished.