Both branches of the Timmins Public Library have been transforming into libraries of the 21st century, and an event on Monday night is a good chance to catch up.
At six o'clock at the main library on Second Avenue, a new strategic plan for the next three years will be released.  After a short presentation, tours will be offered.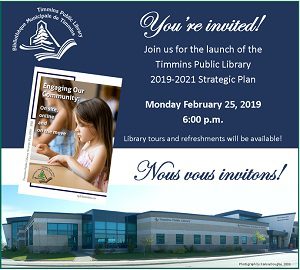 Library CEO Carole-Ann Churcher says a big part of the plan is community engagement, making the libraries community hubs by offering outreach programs and partnerships.
"We often have community partners coming in to do presentations," says the CEO. "We want to do more of that with our community partners.  We think it's important to be involved in the community and get people together and get people interested in discovering their library and all the new things we have to offer."
The tours will highlight the fact that a lot of the services weren't offered even ten years ago.
"So you can look at the library for services such as e-books, e-magazines, downloadable audio books, research databases,"according to Churcher. "all while we still try to preserve the traditional services such as print materials and children's programming which are still very important to the community."