It's too far in the future to predict whether the night of Saturday, February 23rd will be cold… but it definitely be The Coldest Night of the Year in Timmins.
That's an annual walk for the Anti-Hunger Coalition Timmins, and executive director Jennifer Vachon says it is a way to raise awareness about hunger and homelessness in the city.
"And the second important reason is raising funds for Anti-Hunger Coalition Timmins," she tells My Timmins Now Dot Com.
Vachon and coalition board member Ed Stecewicz were at this week's city council meeting, promoting The Coldest Night of the Year.  It features two-, five- and ten-kilometre walks to raise awareness and money.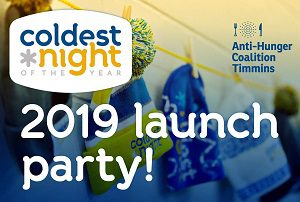 The presentation rekindled that old rivalry between South Porcupine and Schumacher, between the councillors for those respective communities, Mickey Auger and Joe Campbell.
"I'm not a very good walker," Auger admitted as he laid down the gauntlet,  "but I'll challenge Joe to a two-kilometre walk, but you've got to give us time, at least an hour and a half."
The response from Campbell was swift. "I'm from Schumacher and I don't turn down challenges, so let's get it on, Mick."
Moose FM is a sponsor of The Coldest Night of the Year.  The launch party is tonight at Full Beard Brewing on Wilson Avenue, from 5:00pm until 8:00pm.