Neither the music or the sound of fireworks will be booming out of Hollinger Park this summer.
In a Facebook post early Wednesday evening, the Stars and Thunder Festival says the park won't be ready for this year.
At the January 8th council meeting where former mayor Steve Black asked the city to come on board as a $300,000 sponsor, it was revealed that remedial soil work — specifically sodding and hydro-seeding — might not be sufficiently completed.  Black asked for either the Canada Day weekend, or the Civic Holiday weekend in August. As it turns out, it won't be ready for either.
"We have been informed by city staff that the field will still be undergoing upgrades," the Wednesday night Facebook post says.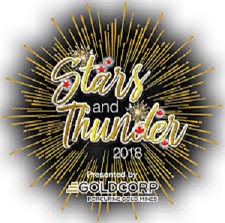 Black confirms the post for My Timmins Now Dot Com.  After spearheading the music and fireworks festival in its first two years and while he was mayor, Black's presentation to council last week was on behalf of promoter Ron Sakamoto, who was prepared to bear any financial risk for Stars and Thunder moving forward.
The Facebook post adds, "We will await to see if the city makes any plans to support a 2020 festival and are hopeful we will see everyone in 2020.
"In the meantime please feel free to share who you would like to see headline or perform in 2020."