Celebrating 30 years of fresh pasta in Timmins.
In the summer of 1989, Tim Burton's Batman flew into theatres, Canadian one-dollar bills were replaced with the new one-dollar coin, popularly named the 'Loonie', and Timmins welcomed a new Italian Dining Establishment: "Toffanello's Fresh Pasta".
30 years later, Toffanello's continues to serve authentic Italian from a menu that has retained classic artisan style recipes, and is always expanding to bring you a new and fresh twist on classic dishes.
The first press of dough
It all began when Mark Toffanello, who had always been a passionate cook, inspired by his mother and father, created what was to be his home and masterpiece for the next 25 years.  In-between jobs when Mark first cooked up the idea for the business, his original handwritten business plan still in existence, he gleefully describes his ideal market and target demographic: Italians native to the North, as well as Italian food lovers seeking that same exquisite cuisine that Nonna used to make!
With the help of friends, family and some solid recipes, it didn't take long for Mark to get the ol' brick-and-mortar up and running! As they say, the rest is history. 30 years later, Toffanello's Fresh Pasta has become a cherished institution within the city of Timmins.
Changing hands
Upon meeting Mark in March of 2014, and after years of enjoying and dining on Toffanello's Fresh Pasta, current owner and pasta aficionado, Krysta Kiraga, would submit a proposal in hopes of acquiring and growing the business.
By the end of April, Krysta was invited to join the team on trial and spent the next three months shadowing Mark, his methods, and his demeanour.
By Canada Day 2014, Krysta would take full ownership of the business, with Mark helpfully staying on for an additional three months in order to ease the process and ensure a smooth transition.
True to tradition
Ensuring that what Mark Toffanello started in 1989 is respected and sustained, Krysta, who has always regarded herself to be a serious foodie, brings her experience from touring the Italian homeland, 17 years of food industry work experience, and the passion and knowledge of studying food & wine all over the country.  Krysta was inspired to create a mission that centers upon serving fast and fresh food to the population of her beloved Timmins, with a level of quality on par with the top offerings in Europe.
A combination of good timing and great chemistry (alongside rumours of Mr. Toffanello's impending retirement) provided Krysta with the opportunity to continue honouring the enduring legacy of the Toffanello brand.
"I'd like to invite each and every one of you to stop into our shop to experience the best food and town and meet my cherished team of pasta enthusiasts" – Krysta Kiraga
Benvenuto nella mia cucina
Grateful for the support received from family, staff and the community, Krysta welcomes you to Toffanello's, where you'll be greeted by lovely team of pasta enthusiasts who understand that Italian cuisine will always have a beautiful simplicity at its roots. They know that it's all about the best ingredients, and help you use those ingredients in a unique way to savor each portion of the meal.
Mangiare
Toffanello's offers catering services for all sorts of events. You can fine dine on fresh Italian at any business lunch, party, weddings or social gathering. For the foodies who want to be wowed, inquire about the exciting 'surprise catering menus'! In addition to catering, lunch specials and their pasta shop, Toffanello's hosts private cooking classes so you can learn how we make some local favorite recipes, and they have fundraising opportunities for non-profit organizations too.
Come celebrate 30 years of serving handmade Italian recipes to our local community during Toffanello's 30 year anniversary!
Toffanello's Fresh Pasta – serving Timmins for 30 years
---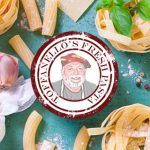 Website: https://toffanellosfreshpasta.com/
Facebook: https://www.facebook.com/toffanellos/
Phone: 705-268-6933
Address: 119 Wilson Ave, Timmins, Ontario P4N 2S8
---