Six new element- and vandalism-resistant Great Book Boxes are now in service across Timmins.
They're a joint project of several organizations, including the public library.  The boxes encourage you to drop off books for any age in any language and borrow any you want to read.
Great Book Box program chair Mary Gardner says they're built by The Bucket Shop.
"They're made of steel, and they're all made in the form of the McIntyre headframe," she explains. They look exactly like the headframe. They have ripples going up the side and the flat side."
More Great Book Boxes are coming.
"It's really good for socialization," Gardner adds, "because you see people meeting other people as they go around the trail at Gillies Lake or when they're walking in Schumacher or other places, and they stop and they talk to each other and they'll take a book and they talk about it."
GREAT BOOK BOX LOCATIONS
Bannerman Park
Airport Hote
Father Costello Drive
Roy Nicholson Park
Pinecrest School
GillIes Lake inside Earle Miller School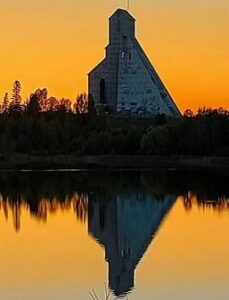 Here's our discussion with Mary Gardner: