The homeless encampments under both sides of the Algonquin Boulevard underpass are gone for now, at least.
Late this morning, city workers moved in and carted away the beds and other items in use on both sides of Algonquin.
City Police supervised, along with representatives of Living Space, the Canadian Mental Health Association and other agencies.
Sergeant Robin Carter says they were bringing the campers to a safer environment.
"We have Kate Durst from the Living Space and we have Jeremiah from Mushkegowuk and they're helping all these folks bring their personal belongings to different locations where they can store them and the Living Space is assisting them with finding beds."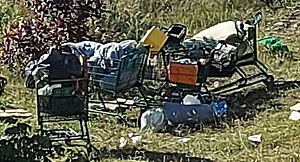 The operation went off peacefully, much to Carter's relief.
"The reason why that we're here is just to keep the peace," he reiterated. "The last thing we want to do is to charge anybody; we don't want any type of negative dealings whatsoever. It's simply to keep the peace and to assist our community partners in keeping these folks safe."
How many people who were camped out is unclear.