As the Commonwealth and the world mark the funeral today of Queen Elizabeth, we continue to look at royal visits, in our weekly Timmins history feature.
Elizabeth never came here, but museum director-curator Karen Bachmann says  her sister, Princess Margaret, did in the early 1980s.  She toured the Kidd Mine and went to City Hall to sign the guest book.
"I do recall Mike Doody telling me that they had to make special dispensation to allow princess Margaret to have a cigarette in the Council Chambers" relates Bachmann, "because she was gasping at the time and said 'I need a cigarette'. And who was going to turn down Princess Margaret?"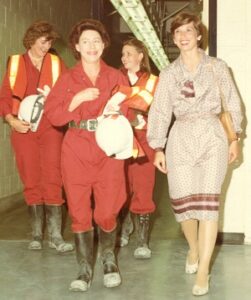 More than 60 years earlier, in 1919, Elizabeth and Margaret's uncle, the Prince of Wales visited. He was later King Edward VIII.
"It was a big deal. People from all over the place came around," Bachmann says. "They stopped at the train station, where he gave a little speech and everybody was very happy to see him and then they trotted him off to the Hollinger Mine, where he got a tour of the mining facilities and was given a humongous chunk of gold to take back with him."
The whereabouts of that chunk of gold today would be entire speculation.