The focus of Canada Day activities this Friday in Timmins is the Hollinger Park.
Timmins Community Park Association president Mark Rogers says his group and Tourism Timmins have a full program between noon and 4:00pm.
"We'll be having things like a climbing wall, an inflatable maze, foam party, barbecue with hot dogs. We'll be having Canada cake and cupcakes," he outlines. "We'll also be having what are called bubble zuits, for kids to get in and bounce around in."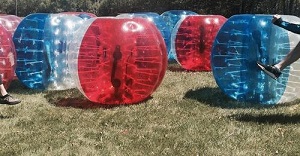 And what's more Canadian than hockey? With that in mind, Rogers says there's a special incentive to attend.
"The Timmins Rock have generously donated two season passes for the 2022-23 hockey season for a draw. So make sure you get your name in that draw and at four o'clock, we'll make that draw for those two passes."
A few hours later – at 10:00pm – there will be a Canada Day fireworks display over Porcupine Lake.