The Timmins Police Service is still trying to come to terms with the untimely passing of Constable Dale MacDonald at the age of 49, after a brief but courageous battle with cancer.
Constable MacDonald began his career with the Timmins Police Service on August 29th, 2016, and was readily accepted as a platoon officer with a gregarious nature and a solid work ethic.
Dale was a second generation Timmins Police officer in that his father, the late Gary MacDonald, served with the Timmins Police Service, primarily as a Forensic Identification officer.
Dale was a committed police officer who possessed a strong sense of  empathy and patience for persons in crisis. Dale will be missed for a large number of reasons, but his concern for the safety of his community and the welfare of fellow police officers was always obvious and unflinching.
Dale acted as a mentor for younger officers as well as earning the reputation for being reliable and eager to lend assistance, regardless of the circumstance. Dale's untimely passing comes on the heels of a recent cancer diagnosis.  He leaves behind a wife and four young children along with his extended police family who collectively share this grief. He embodied professionalism and community service.  His memory will act as a model for others to aspire to in terms of proper conduct, comportment, and a genuine concern for persons in need of help.
May he rest in peace.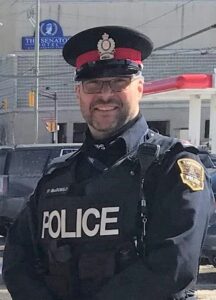 Specific funeral details have yet to be made public.
Submitted by Marc Depatie, Corporate Communications Coordinator, Timmins Police Service