A Timmins dog owner has been ordered to destroy her two pit bulls that attacked her neighbours' two small dogs in June and July, 2019.
Cynthia Cayouette is also under a court order to not own dogs for ten years.
Serena Levert — whose dogs were badly mauled — says it's been a long three years.
"I feel bad because the dogs had to be put down," she adds. "But like everybody keeps telling me, I didn't do this. She did this. She's the one that made them like that."
Levert thinks the ban on dog ownership isn't long enough.
"I think it should have been for life," she emphasizes. "But I'm happy with the ten years and at least that she can't destroy another animal – another dog at least."
One of Levert's dogs, Penny the pug, died six months after the attack.  She was ten years old.
Levert says Piper the longhaired wire fox terrier has never recovered psychologically.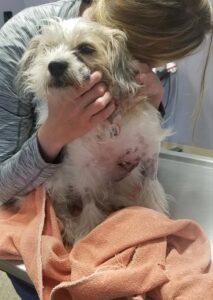 The original story can be found here.