Brass at the Timmins Police Service are using the phrase "tremendously good days at work" to sum up a major drug bust in the city.
"The total amount of drugs found is approximately $363,000 street value with just a little over $6,000 in Canadian currency," says Staff Sgt. Mark Vallier.
It began with a home invasion at a home on Birch St. N. on Monday, April 4th.  A 37-year-old female suspect was arrested the next night; and her alleged accomplice, a 42-year-old man on the 8th.
My Timmins Now Dot Com has deleted the woman's name in this description by Staff Sgt. Vallier of what she's accused of.
"A litany of drug charges have been laid against (name deleted) for trafficking in various things such as methamphetamine, fentanyl and cocaine."
The entire list is at My Timmins Now Dot Com.
Two other suspects – a man and a woman – are still being sought.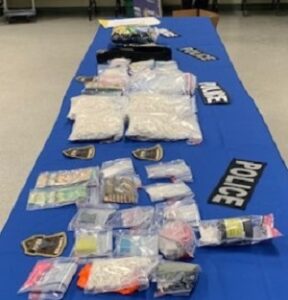 SEIZED AT A JOSEPH ST. HOME:
– 8.1 grams of cocaine
– 25 5mg Oxycodone tablets
– 470.8 grams of Crystal Methamphetamine
– 3883.7 grams of methamphetamine (approximately 8827 tablets)
– 222 grams of Fentanyl
– 13 tablets of Dilaudid
– 5.2 grams of Psilocybin (magic mushrooms)
– 244 tablets of 6mg Hydromorph
– assorted firearm ammunition
– $4505.00 in Canadian currency
SEIZED FROM A VEHICLE AT THAT ADDRESS:
– 6.2 grams of cocaine
– 31.3 grams of Crystal Methamphetamine
– 105.5 grams of Methamphetamine (approximately 239 tablets)
– 128.9 grams of Fentanyl
– 55 Oxycodone tablets
– 38 Hydromorphone tablets
– assorted firearm ammunition
– $1075 in Canadian currency
Source: Timmins Police Service