Since last June, a group with international ties has been quietly doing community work in Timmins. Dan Gloster says Risk Takers have chapters in Canada, the States, Mexico and Egypt.  He's president of the 705 chapter.
Most members are recovering from addiction and mental health issues.  Gloster's been clean for nine years, holding himself out as proof that people can change their lives and make a difference. But you don't have to be in recovery to belong.
"No. Not at all," Gloster says emphatically. "As long as you've got a big heart and want to help people, that's what we're looking for."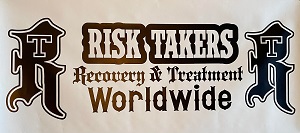 For now, the group has a Facebook page to support others.
"A lot of our members do little shows and stuff like that to help you with the tools for recovery and all of us dealing with mental illness," says Gloster.
Risk Takers have been helping the Yo! Mobile, the South Porcupine Food Bank, and First Baptist Church. And Gloster says members deliver Sunday meals with South Porcupine Pentecostal Church.
The group has already done one drive for feminine hygiene products for Living Space, and is planning to do it again.