The indigenous history murals spread out across Downtown Timmins have won the local BIA the 2020-21 Spirit Award from the Ontario Business Improvement Areas Association.
Speaking to city council Tuesday night, local BIA chairman Jamie Roach praised council for its part in making the project so successful.
"All of you made this happen and in particular, Coun. Kristin Murray and CAO Dave Landers," said Roach. "This award belongs at City Hall for everyone to enjoy."
Coun. Murray, partly in conjunction with her job at the Misiway Health Centre, conceived the mural idea in 2018 along with a young local photographer.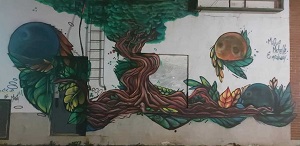 In a video presentation to the awards program last month in Hamilton, and at the council meeting, Roach commented on the murals. "It was important to Downtown Timmins to ensure that everyone in the community or visiting the community could understand the story depicted in the mural."
That's accomplished through a QR code with every mural that provides access to the verbal story in English, French and Cree.