Last week, as we looked back at hockey's arrival in this area, we learned that Noah Timmins came to love the sport while working in Cobalt.
He brought that love of it to Timmins and in 1914, his Hollinger Mine built the Timmins Arena on Second Avenue.
Museum director-curator Karen Bachmann says from there, he formed teams to play in the leagues established around the Tri-Towns.
"So when you were coming to the Porcupine at that time, they were looking for miners, yes," she recounts, "but if you could play hockey, boy! – you had a job and you were going to be part of the team."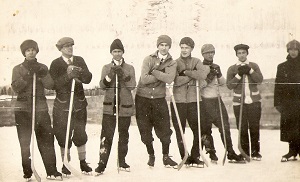 The teams from this area played against those in the Temiskaming Hockey League.
"That is actually the beginning of the National Hockey League," says Bachmann. "So when they all get together and they decide that we need to do something a little bit more formal, 1917, they founded the National Hockey League and the core of it comes from Northeastern Ontario."
We'll keep skating with the hockey theme next week, alongside some of the NHLers who came out of the Porcupine mining camp.