Doris and Ken Byron have a cautionary tale for anyone walking their dogs in the winter: Keep an eye on what they might get into.
This comes from a recent episode the retired Iroquois Falls couple had with their six-month-old Yorkie-Poo, Minnie.
"We didn't know if she was having a seizure or a stroke or whatever," says Mrs. Byron.
Shortly after a walk along a snowmobile trail beside the Abitibi golf course, Minnie was stiff and shaking.  So the Byrons rushed her to South Porcupine, and handed her off to their veterinarian.
"In ten minutes, the vet called me out and said 'Mrs. Byron, you don't have to worry too much about this,' he said, 'I think it's pot toxicity.'"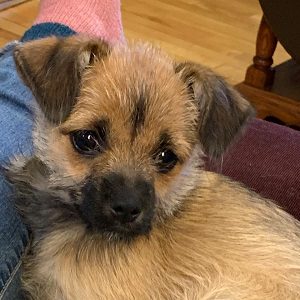 Mrs. Byron says Minnie "was out of it" for the rest of the day.  She and her husband brought the dog to bed with them.
"And then at about 1:30 or 2 in the morning when I got up for my bathroom rip," she recalls, "she seemed to be much better and by morning, she was fine and she was over it."
Minnie needed Benadryl for a couple days for a persistent itch, but is fine now.
The Byrons figure she picked up some weed or a gummy along the trail.  From now on, they'll discourage her from nuzzling into anything while out for a walk.
Hear the complete interview with Doris Byron right here.