For the fourth time already this month, school buses serving the English public and Catholic and French public boards didn't run on Wednesday.
Ryan Hartling is the transportation supervisor for Northeast Tri-Boards Student Transportation.
He says that on Wednesday, the cancellation came later than usual – shortly after 6:30.
"It seemed like it was going to be a pretty good day for bussing," Hartling remarks, "but once the buses got out on the highway, they had a lot of difficulty, so we had to cancel buses."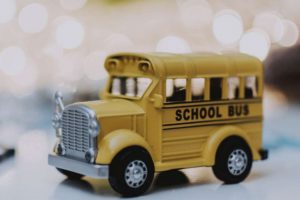 The shoulder seasons of late fall and early spring are a bigger challenge than mid-winter is.
Hartling says in winter, we have a lot of overnight snowfall, or weather warnings dictate cancellations.
This time of year, buses can be on the road even before the temperature has reached its overnight low.
"A lot of these roads are going to freeze over at that point and they don't thaw out until later in the day," he says. "Or the buses are the first vehicles breaking a lot of these roads. No other traffic has been out there. So that's kind of the issue as well."
Hartling says he never apologizes for erring on the side of caution.  He says the buses carry precious loads, and safety is number one.