The next couple of weeks we'll look back from these days of movie downloads, to movie theatres in the early days of Timmins.
Museum director-curator Karen Bachmann says the first was the Majestic in South Porcupine. Built right after the 1911 fire, its motto was "our films are flickerless".
"Because of the way that the film speeds were going and you fed them into the projector," she outlines, "they kind of were jumpy. So if there was too much of a flicker in them, most of the people that were watching the films got seasick. They had invested in some really good equipment that could guarantee that you would not be seasick while watching Mary Pickford try to escape from somewhere."
There was also the Rex Theatre in South Porcupine. It had a second, slap-dash location in the back of a store in Timmins.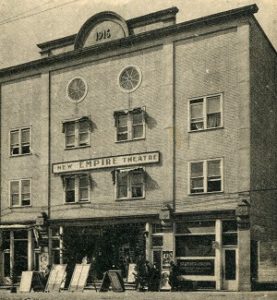 Leo Mascioli then opened the Empire Theatre in 1916, on Third Avenue.  It's now the Seniors Centre, and you can still see the stage and the arch over it.
"You can see behind that drop ceiling is some wonderful ceiling work that is absolutely stunning that is still there within the space," says Bachmann. "And behind the scenes there are still the dressing rooms that would have been used by the vaudeville players at the time."
Next week: 1924 and a new theatre in Timmins that was the first to screen talkies.