As every year, poppies go on sale this Friday right across Timmins — two Fridays before Remembrance Day.
Legion Branch 88 sergeant at arms Andrea Villeneuve says the money from poppy sales is very important, and goes mostly to veterans.
"We make donations to various organizations through town, like Golden Manor, Extendicare and the Timmins and District Hospital and to veterans that need assistance as well," she told My Timmins Now Dot Com.
The annual Remembrance Day to the cenotaph at Hollinger Park is on Monday, November 11th.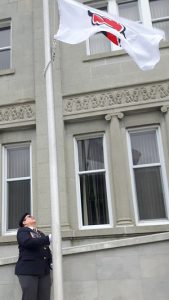 Villeneuve says there are fewer vets every year participating in the parade, physically, at least.
"They are there.  We know that the veterans are there."
She adds that even the ones who can't parade anymore, do show up for another Remembrance Day observance.
"We normally have a get-together for all the members and veterans afterwards," she explains.  "We see most of them there, which is always pleasant to see."
Today at City Hall,the period from Friday, October 25th to Sunday, November 10th was declared Poppy Weeks, and a Legion flag was raised outside.