Fernand Tremblay Park has been dedicated to the final reeve of Mountjoy Township; the first member of Timmins City Council for that area; and a tireless community worker.
Fern Tremblay himself was not able to attend yesterday's ceremony, due to health issues.
In a speech read on his behalf by his daughter Rosanne Harvey, Tremblay said how pleased he was that the idea to name the park in his honour passed council unanimously.
"This will leave in Timmins a legacy for the Tremblay family of this generation and those to come, and compel them to follow my footsteps in serving those in need around them, one day at a time," he commented.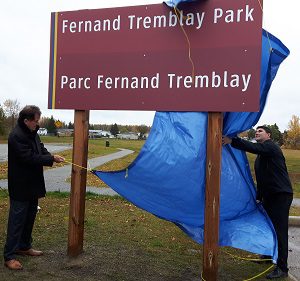 Harvey said the location is ideal, because her father grew up in that neighbourhood.
"Where Dumoulin Fishing Tackle is right now, Dad was brought up there," she recounted. "He moved there at the age of two-and-a-half and he used to come hunting for rabbits here in the back."
The park was known as King Street Park.  It's at the end of Royale Street, off Riverside Drive.