Timmins Police say there are some very encouraging local numbers coming out of Operation Impact.  It's the annual Thanksgiving weekend national blitz against the big four:  impaired, distracted and aggressive driving, and not wearing a seatbelt.
"Throughout the entire campaign, no seatbelt violations were noted and no impaired driving offences either were noted," reports communications coordinator Marc Depatie.
He adds that 15 drivers were stopped for speeding.  None of them crossed the stunt-driving threshold of 50 kmh over the limit.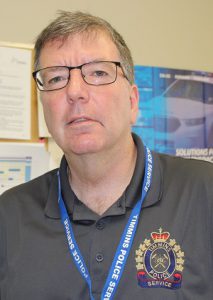 "But still, speeding is a form of aggressive driving," Depatie remarks. "It diminishes your reaction time.  The faster you're going, the less time you have to react to unforeseen situations like a pedestrian wandering out in front of you or something like that."
Only one person was charged with using a cell phone behind the wheel.
"Overall, Operation Impact seems to have resonated with the motoring public," Depatie suggests. " We're encouraged by the statistics that have been garnered from this campaign."
While officers are always on the lookout for driving offences,the next big push comes with the Festive RIDE program starting late next month.