Picking big, juicy wild blueberries on the last weekend of September? – Unheard of, except this year.
MNRF regional outreach specialist Karen Passmore confirms that black bears have had a lot more to eat in preparation for hibernation than in most years.
"We had a bumper crop of blueberries, service and june berries, mountain ash and hazelnuts," she says.
Looking ahead six or seven months, we shouldn't have too many nuisance bears wandering around when hibernation is over.
"Bears should have put on good body fat reserves for this winter, which should sustain them for most of next spring as well," according to Passmore.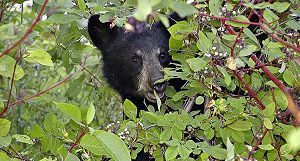 All the natural food this summer kept the number of bears wandering into human territory down significantly, too.
"From April 1st 2019 to now," Passmore reports, "Timmins District has received 177 calls and that compares to 627 calls for the same period last year."
That's a drop of almost two thirds.
Passmore says even now, though, as apples and crab apples ripen… bears could be attracted to your yard.  So you might want to pick them and make sure none are on the ground, fermenting.