A car reported stolen from a home on Mahoney Road in Timmins is hard to miss.
It's a grey 1952 Chevrolet Deluxe, two-door coupe.
It was parked in the yard at that rural west end home, and last seen at about 6:00am Saturday.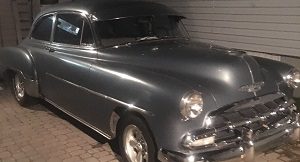 The owner tells police that it had half a tank of gas, which translates to about 150 km before needing more gas.  Back when the car was new, that was expressed as "90 miles".
The car's worth about $18,000 and has one more distinguishing feature: no back seats.
If you spot the car, call police or Crime Stoppers.
TIMMINS POLICE

705-264-1201

COCHRANE DISTRICT CRIME STOPPERS

1-800-222-8477