The helium-filled balloon that had many of us talking yesterday, has descended back to ground level.
Even though we could see it clearly, it was 39 kilometres high.
Mission manager for the joint Canada-France operation, Sebastien Lafrance, says the plastic balloon that was launched from the Timmins airport was four-hundred feet in diameter.
"If you take the plastic from that envelope, you could cover nine football fields," he explains.
Its mission was to let an attached telescope study the properties of space dust between stars.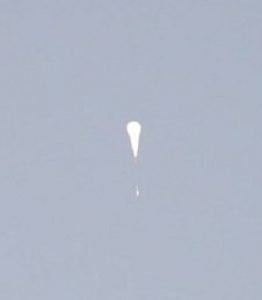 This morning, the command was given to split the plastic that's similar to what you get at the dry cleaner's, and bring it down.
"The flight was actually shorter than we were hoping for, but the winds were a bit stronger.  It landed 100 km north of Baie Comeau, in Quebec," Lafrance says.
When it was over an unpopulated area north of Baie-Comeau, the command was given to separate the payload from the balloon.
"Balloon is split in four sections, so that the helium goes out of the balloon, which will allow the balloon to come back down, and the payload falls under parachute."
That payload is a telescope that looked from the stratosphere into outer space, to study space dust between stars.