The workers are gone.  Their equipment is gone.  The cones are gone.  And so are the 50 km/h kilometre-an-hour speed limit signs gone from Rae Hill.
Timmins Police communications coordinator Marc Depatie says the traffic section is dealing with a lot of people speeding well over the limit of 70 on part of it,  and 80 the rest.
"Obviously from a public safety perspective, we want motorists to be mindful of the speed limit and to be in full compliance at all times," he remarks.
Even if the new pavement fools you into speeding without you even knowing it, Depatie says ignorance of the law is never a defence.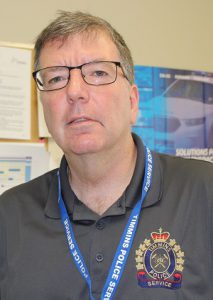 "This particular area, with the new pavement, it has an added aspect of speed," he says, "so it's being addressed by the traffic section, here at the Timmins Police Service."
In other words: If you're caught speeding there, you get a ticket.