A new school year sometimes means going to a new place to learn.  That's the case for students of the public school board's Programs in Alternative and Continuing Education Program – PACE for short.
Director of education Lesleigh Dye says that effective tomorrow, the PACE Centre will no longer be at the corner of Third Ave. and Cedar St.  It is moving to the third floor of the Timcor Building on Third Ave. at Spruce St. — the red brick building across from Timmins Transit.
"We found a location that is going to better suit our needs," Dye remarks, "and we also think it's quite convenient in terms of public transportation and continuing to be in our downtown core in Timmins."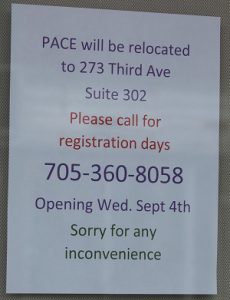 She says it's also an opportunity to expand the centre's offerings.
"We are introducing e-learning and we're also looking at cooperative education credits for our students.  And we're also looking at some face-to-face instruction.  If we have a certain number of students who perhaps need a Grade 12 English, then we will organize some face-to-face instruction."
PACE also offers independent study to high school students who can't get a credit they want at their schools.