A proclamation and flag lowering outside the headquarters of the Porcupine Health Unit marked today as International Overdose Awareness Day.
Medical officer of health, Dr. Lianne Catton calls it a public health emergency in her jurisdiction, from Matheson to Moosonee and Hornepayne.
She says public awareness is needed, to get out the word that an overdose can affect anyone.
"We need to keep that in mind," she commented, "and just as a community,  really work toward supporting everyone in our community, increasing the conversation, looking to prevent substance abuse, support those that are currently affected by it and further prevent tragic outcomes."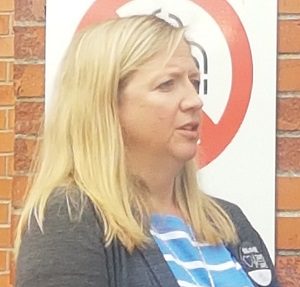 Catton advises parents to talk to their kids about opioids and other potentially fatal drugs, talk again, and then talk some more.
And she says that part of combatting the overdose problem is to increase compassion.
"I think every community member has that responsibility to increase the awareness and increase our compassion, to reduce stigma towards those that have ben dealing with mental issues, those that have been using substances to families that have lost a loved one to overdose."