Word on the crime fighters' grapevine is that Batman might show up tomorrow at a car wash and barbecue at Timmins Police headquarters.
The event is a fundraiser for Timmins and District Victim Services.  Executive director Melissa Turcotte says the cost for a car wash is a suggested minimum donation of $5.00.
"So it goes to Victim Services to assist victims of crime and tragic circumstance that don't currently meet the financial requirements for other funding that we have," Turcotte explains.
It's also an opportunity to unload any old cellphones you have lying around.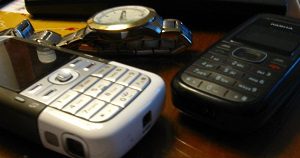 Turcotte says the phones are issued to people who are at high risk of being victimized, so they can call 9-1-1.
"You just need to have a cellphone.  If you have a sim card, it'll actually assist with GPS location," she says.  "You will be able to notify police, they will be able to find you based on your location.  So certainly, you don't need a subscription, you don't need to pay that monthly fee, if you're just in danger and need a cellphone and those are what we're looking to help."
The event runs from 11:00am until 3:00pm.