Iroquois Falls and its "Boost our Igloo" volunteers are tantalizingly close to having Junior-A hockey in the Jus Jordan Arena for the upcoming season.
Chairman Rick Charlebois can't say where the team might relocate from. He and a municipal representative met face-to-face with team ownership, who, he says, has issues with its current community.
"They have given an ultimatum to their community to address these issues and I believe the end of this month is the timeframe, that we're their Plan B," says Charlebois.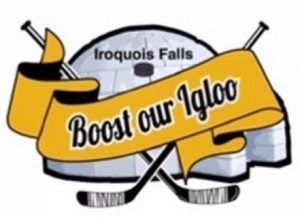 Also by the end of the month, he's hoping for corporate support to help cover the team's operating budget of $80,000.
"We're looking at raising letters of intent or promissory notes, if you want," he states,  "for about half of that budget mainly, but not exclusively within the town of Iroquois Falls, with merchants, industries, employers and businesses and so on and so forth."
He says that would ease any worries the team or league might have about the big move.
Click here for more information or here.