You can't say the 15 young people who picked up brand new Canadian Tire bikes and helmets at city police HQ on Thursday won them.  They earned them.
The ten-to-12-year-olds participated in the Build a Bike program.
It had them performing various chores and doing good things in the community.  For each one, they earned part of a bike.
One of the items on the list is being physically active and playing outside.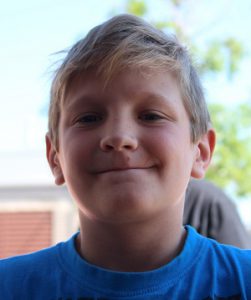 Eleven-year-old Trevor Lamarche says that's his favourite , especially if he can do it at camp.
"I love playing outside," he told a scrum of reporters. "Some people think I like playing video games more than going to camp, but it's the other way around.  I love camp more."
Timmins Police communications coordinator Marc Depatie points out that it's a lot more than "one good deed gives you a bike". It ranges from making your bed every day to helping out around the house and in the community, and always being polite.
"So it inspires them to see the value in providing a level of community service, giving back to the community at a young age," Depatie told the same scrum. "We're trying to inspire that here.  It's an element of positive reinforcement and it pays dividends in terms of developing decent citizens down the road."
As a group, the 15 kids performed their final act of community service by cleaning up the area around the Timmins Museum.