It's going to be a summer of candidates and their campaigners going after your vote in the October federal election.
Incumbent Timmins-James Bay MP Charlie Angus – a New Democrat – says the big battleground question will be the credibility and integrity of Liberal Prime Minister Justin Trudeau.
"He made so many great promises," Angus says of Trudeau.  "He made people believe things could be different and it just seems like we're slipping further and further back into the back room, old boy politics of looking after your friends, and people deserve better than that."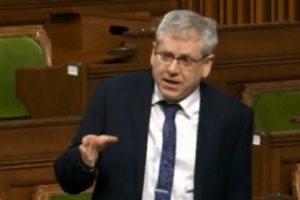 On the local level, Angus says he's feeling very good, as he heads out onto the campaign trail.
"We take nothing for grante," he claims. "We're putting a big machine on the ground. But it's about working with people, it's about carrying on the work that we've been doing."
Liberal Michelle Boileau is the only declared candidate to compete against Angus.