Canada Day is coming up and in many cases,  hat means fireworks to cap off a day of partying.
You and I love it.  Our pets: not so much.
Dogs and cats have very sensitive hearing. Not expecting the booms and whistles just adds to their discomfort.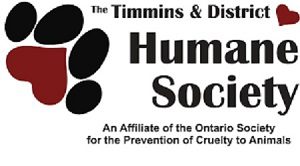 Alicia Santamaria is executive director at the Timmins and District Humane Society. She advises to keep your pet indoors and have music or the TV playing, to filter out some of the fireworks noise.
And in case the frightened dog or cat escapes the house, she strongly recommends that they're microchipped or at least be wearing a licence tag.
"So if a dog or a cat is running out in the public due to the fireworks and the shock of everything," Santamaria explains, "then at least having the pet somehow marked will then reunite the pet with their owner."
If you're at home and can't hear the explosions, the pet's sensitive hearing means they might.
Santamaria has a list of signs to watch for.
"They're panting, breathing really loudly, they're anxious, they're pacing, not settling, they might be whining or whimpering," she outlines. "That's a good sign to show that they may have a phobia to fireworks."