This is Brenda Beaven, coordinator  for the Cochrane District Crime Stoppers board.  The Timmins Police Service are looking to you to help identify suspects in thefts from vehicles in Timmins and Schumacher.
Around May 25th and 26th 2019 parties broke into a vehicle in Schumacher and stole a wallet containing credit cards. It is believed the parties were caught on a neighbour's video security camera. It shows a male and female walking through yards on the date of the theft.
And in early June a male party is seen in security footage entering a vehicle on Spruce Street South. This party stole a cheque and later cashed it, leaving the victim without his money.
To see these images,  look below or visit the Cochrane District Crime Stoppers Facebook page. If you recognize any of these individuals  call Crime Stoppers at 1-800-222-TIPS, or click the p3tips.com link or download the P3 App.
If your tip leads to an arrest you could earn up to $2,000 in cash. You will remain anonymous and will not have to testify in court.
Together we can catch these individuals.
See something, hear something, do something.  Call Crime Stoppers.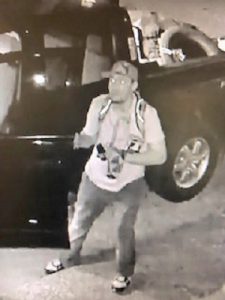 Audio of this report: