The dining car on the Polar Bear Express is – at the same time – new and not new.
Ontario Northland communications manager Renée Baker says the new car is one that was refurbished in the railway's manufacturing and repair shop in North Bay.
"The car actually went into service on Monday," Baker relates, "and we've received some feedback already from passengers on how bright, airy and comfortable the piece of equipment is."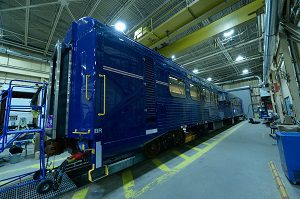 All the refurbishment is done by ONR employees.
"They basically take the shell of an old passenger dining car or even an old passenger car," says Baker.  "They strip it right down to the metal steel and then they build it brand new."
The Polar Bear Express has introduced its summer schedule.  Now with a Sunday trip, it offers service six days a week.