You might not like the rain we had overnight and will later in the week, but the people of Gogama and the crews battling a forest fire that has them on evacuation alert like it.
MNRF forest fire information officer Isabelle Chenard says fire bombers and ground crews worked on holding back the flames all weekend, when the fire was estimated at 6,000 hectares.
"Weather conditions have allowed for remapping of Timmins 2," she reports, "so the fire has been resized to 5,000 hectares."
One hectare is roughly the size of a football field.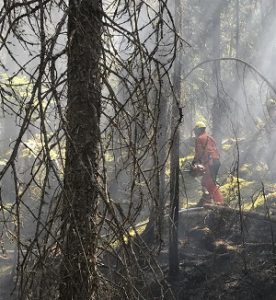 Chenard says the rain, high humidity and light wind will limit fire activity, so it's not expected to grow.
"That will reduce the fire hazard in comparison to this weekend for most of the region," she adds, "but we're reminding residents to be mindful of safety if they're planning to have a campfire."