This fits the definition of the old cliché "worst kept secret":  Ward 5 Timmins councillor Michelle Boileau has applied to be the Liberal candidate for Timmins-James Bay in the October 21st federal election.
At her announcement near the shore of Gillies Lake yesterday afternoon, Boileau pointed out that as a francophone, she is part of a minority. That's one of three traits she underlined.
"Female. Minority. Millennial," she said. "These are also voices that are still not heard enough at the House of Commons today."
At 30 years old, Boileau does fit the definition of millennial.  Another sign: She read her speech off her phone.
Boileau expects to hear from the party greenlight committee within weeks, and says she will continue to serve on  council until she's elected Member of Parliament.
Neither would she criticize incumbent MP Charlie Angus – a New Democrat.  She said she admires him,and it's politicians like him who inspired her to go into politics.
"It's a time for a change.  A time for a change in which party is representing the Timmins-James Bay riding.  It's something that I'm hearing frequently as I was mentioning and kind of garnering support.  It's something I kept hearing, that we need a change.  We need a change from NDP. And so I received a lot of support."
Here is the English portion of her announcement.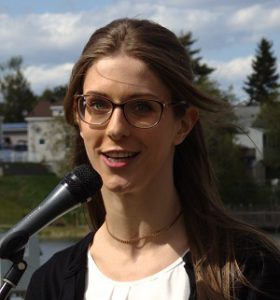 This is Boileau responding to reporters' questions.