An open house is planned for next Friday afternoon, June 7th, to celebrate the 100th  anniversary of Schumacher Public School.
Principal Kelly Pearce tells My Timmins Now Dot Com that the event goes from 1:00pm until 6:00pm.
"We'll have displays on with regards to old yearbooks and pictures, we'll have a 100th anniversary kind of timeline," she says, "and really, just for alumni to come and walk the halls."
The building actually opened in 1917.  But the four classrooms were used as a hospital for two years, because of an epidemic.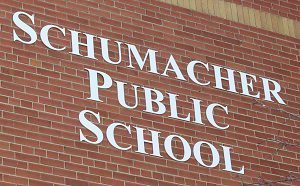 Pearce says each class is contributing to a time capsule, meant to be opened in 50 years.
"Hopefully the school will still be standing in 50 years from now and the students can open the time capsule then," Pearce adds.
…If they can find it.  Rumour is that there are a couple time capsules on the property. The problem is no one knows exactly where.