If anything, Satuirday was probably the warmest night of this winter so far.  But as the fundraising walk for the Anti-Hunger Coalition of Timmins called "The Coldest Night of the Year" began, snow at least started falling.
Coalition executive director Jennifer Vachon told the 150 participants on 21 teams before the walk began, that nationally all the walks topped five-million dollars raised.
"We're at just under $28,000 raised for Timmins," she announced to loud applause.
The top local fundraiser is Gretchen Anderson, who sold Valentine's Day cookies along with other fundraising events with friends and family.
"Last I checked," Vachon remarked, Gretchen had raised over $1,600, but that may have gone up (prompting from the audience). She's over $1,900 now."
Gretchen is five years old.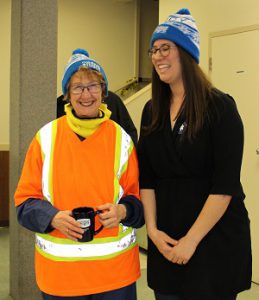 Making good on their pledges, participants walked either two, five or ten kilometres around downtown Timmins.
Moose FM and My Timmins Now Dot Com are proud supporters of The Coldest Night of the Year.