City council was very receptive at its meeting Tuesday night, to renting the old Whitney Fire Hall to Timmins Porcupine Search and Rescue.
The volunteer group says the building – which is now surplus to the city's needs – would be ideal for its equipment and operations.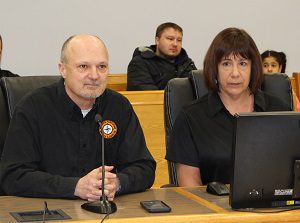 "Storing our vehicles and equipment in a heated, secure place would ensure quicker responses and functioning equipment when called upon," said communications director Lisa Dubeau-Lehto.  "Also, the upper level has a great place which would allow us to conduct training hold our monthly meetings and store all of our personal files and data."
TPSAR is volunteer-driven.  Right now, its equipment is spread around the city, some of it outdoors.
Councillor John Curley asked president Rob Schryburt about the details of the proposal.
"We were considering as a partnership where we would lease it for a nominal amount and we would be looking after the heat and hydro, etc.," Schryburt responded. "Plowing we would look after.  We're a creative bunch who by hook or crook we can get things done."
A working group with the city will hammer out all the fine details.