Written by Rocco Frangione
All Aboard Northern Ontario may be suspending its drive to make a case for restoring rail passenger service in the north, but the drive to bring back service isn't dead.
That's according to Nipissing MPP Vic Fedeli.
Fedeli said the Tories made a commitment during last year's election campaign to restore the Cochrane to Toronto service during the party's first term.
"It's important to me and I believe it's important to the north for all the reasons we mentioned in the campaign and it's something we continue to work on," Fedeli said.
All Aboard Northern Ontario had planned to make the case to the federal and provincial governments on how to restore passenger rail.
However, Fedeli doesn't believe the Ford government needs what the grassroots group could have provided.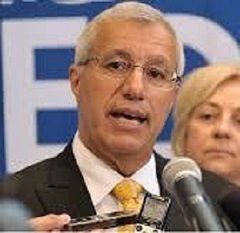 "I'm sure Ontario Northland and the provincial government have a tremendous amount of experts in the transportation and rail industry," he said.
"And I know they have the intimate details on what it will take to do this and I know they are working on this diligently."
So although All Aboard Northern Ontario may not be able to move its initiative further anymore, for the time being, Fedeli says the province can move forward.
"We made a commitment and it's part of our development and our intention to return passenger rail to the north and that's still our intention," Fedeli said.