We're in the middle of snowmobile season with lots of snow to travel over, so it's no surprise that police right across the region are dealing with complaints of trespassing, sleds not yielding before crossing roads and still, complaints about noisy exhaust systems.
"It's important to be mindful that there are other people using the trails and other people in your surroundings," says OPP Const. Stéphanie Belec.
She reminds us that snowmobiles should stick to the trails as much as possible, otherwise, you could be trespassing on private property.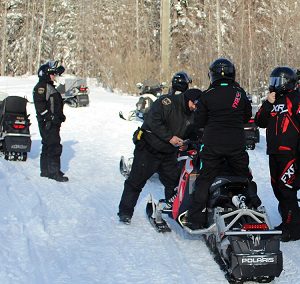 Belec goes on to address snowmobiles on streets, where they're subject to the Highway Traffic Act.
"And a highway," she notes," is basically a street, an avenue, a parkway, anywhere throughout the town, those are considered highways.  The operator must be 16 years of age and hold a driver's licence or a motorized snow vehicle operators licence to be able to cross or drive along the highway."
"Make sure that people are being mindful of the law, because it is there for everyone's safety and that way, we can all enjoy going out on our snowmobiles."