There's nothing like snuggling a furry little kitten to reduce stress.  That's the whole idea for an event Wednesday night at the Timmins Public Library, aimed at high school students.
They're just wrapping up first semester exams, and are likely feeling stressed out.
So the Northern Ontario Animal Welfare Society is bringing half-a-dozen kittens to the library for them.
Co-president Erica Arsenault says it's pet therapy for the kids.
"Pets are very therapeutic," she says. " We've had them in long term care facilities before.  There's pet programs so it's a good way for the students to unwind during a stressful exam time."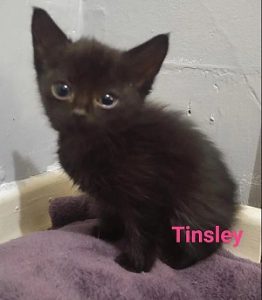 Arsenault says it's also a good way for her group to publicize its pet adoption program.
"Wednesday night is by no means an adoption event, but it's good for people to become aware of NOAWS and what we do and just get our word out there a little bit more."
NOAWS has a Facebook page, and you can also go to its website for more information on pet adoption.