There's a six-year-old boy living in Connaught  who needs life-saving surgery that's only available in Delaware… and it's going to cost his family a lot of money.
Robin Fortier has a rare form of dwarfism that causes his bones to twist.  The surgery will keep his spine from twisting.
He's only expected to grow to be three feet tall when he's an adult, but his mother, Tina Lachapelle says in most ways, he's like any other six-year-old.
"Robin likes to play Legos, he likes driving his Power Wheels tractor, camping, he swims like a little fish.  He's glued to his sister, so whatever his sister likes to play, he plays with her." That sister is nine-year-old Tianna.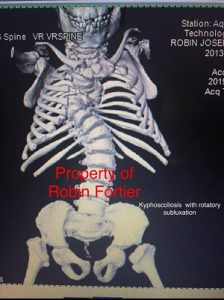 His twisting spine is the subject of the Delaware surgery.
"The rotation can keep turning", says Lachapelle, "and could eventually stop all oxygen flow or (cause) paralysis.  It's something very severe that we need to stop before it keeps twisting."
Tina Lachapelle and Robby Fortier hope OHIP pays for the surgery.  Regardless, they face a huge financial burden.  Robin has to be in traction in hospital for up to 12 weeks in Delaware to straighten his spine, before rods are installed to keep it straight.
Lachapelle grew up in Iroquois Falls, so a few fundraising activities are starting there.  And high school friend Richard Steudle is organizing a comedy show in Timmins on February 16th to help out.
You can become involved by going to the "Help Get Robin to Delaware" Facebook group.