Obviously, organizers of The Coldest Night of the Year hope it's not too cold on February 23rd.
That's the night Anti-Hunger Coalition Timmins is holding its annual awareness- and fundraising walk.
Jennifer Vachon is executive director.
"Hopefully people are out there and they're a little frigid," she says, "because the idea is sort of to be walking in someone else's shoes who may be food insecure or homeless."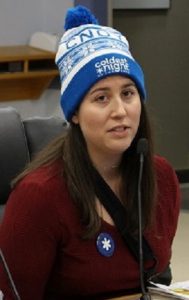 Participants are being asked to raise $150.00 each.  Vachon admits that can seem scary at first, but says it's easy once you give it a shot.
"Anyone who registers to walk, they receive a link to their own personal fundraising campaign," Vachon explains."They can share this link with family, friends, co-workers, whoever.  Anyone who makes a donation to that person's campaign of $20.00 or more gets a charitable tax receipt."
To register and for more information, go to this link.
Moose FM is a sponsor of The Coldest Night of the Year.